Beautiful Chaos
by
Kami Garcia
My rating:
5 of 5 stars
This book was a great addition to the series, building on the story beautifully. In this book, we see Sarafine and John's side of the story, the consequences of Lena bringing Ethan back to life, and how Liv's actions in the previous book affect Marian in this one. Also, we see just how dark Amma will go to protect her boy.
Although the beginning was a little slow for me, the rest of the book was fast-paced and captivating. Instead of Lena being the center of attention, you realize that Ethan is even more important than you thought.
I don't know whether to say it had the best or worst cliffhanger
ever
. I guess it's both. But this was my face after I finished: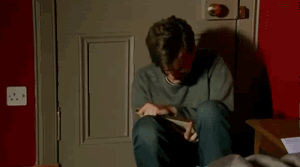 This review is also on
Goodreads
.